Average contractual occupancy rates across the UK have remained above pre-pandemic for the third quarter in a row, but the recovery is far from equal as companies are favoring spaces which deliver a high-end product with a five-star employee experience.
With employees now returning to office, the need to provide spaces that rival the home office is greater than ever.
Although footfall occupancy is still below pre-pandemic levels, contractual occupancy in highly sought-after spaces and locations has recovered above pre-pandemic levels, a sign that companies are confident that their workforce will return to the office, at least for part of the time.
THE FLIGHT TO QUALITY
Over the past two years, occupier expectations have shifted. As a result, occupancy rates within amenity-driven, services-led spaces are the highest in the market, with an average of 82% across the UK.
These operators are typically equipped with the smart office technology and premium fit-out expected by today's occupier. The desire for quality spaces is further heightened by the increasing war for talent, and companies who can offer employees a five-star office with are more likely to attract and retain the best talent.
Highly sought-after amenities include concierge-style services, alternative workspaces (for example work pods, phone booths, collaborative spaces, etc.), outdoor space, and high-tech meeting spaces.
For some companies, cost is still a driving factor, resulting in occupancy rates in value-driven, more traditional spaces averaging 80% occupancy.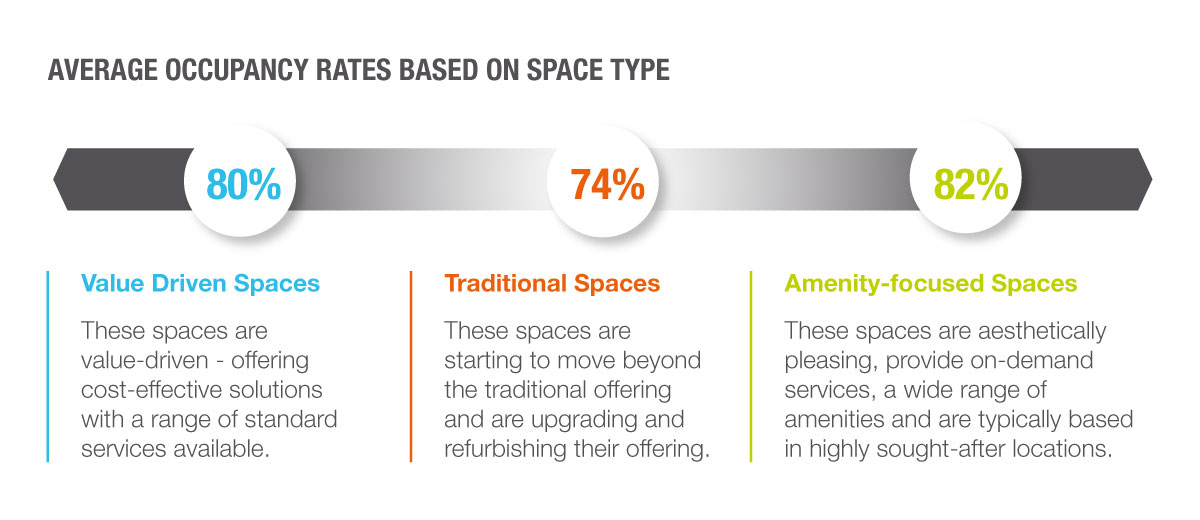 This trend is also playing out within the traditional office sector, with 55% of activity within Grade A space in 2021, the highest since 2017, suggesting that this is not just a short-term reaction, but a longer-term trend.
As a result, operators will need to step up and join the race or be left at the starting line. With each new high-end location that opens in the market, the bar is raised even higher as operators strive to offer a better experience and service each time.
With demand for high-end spaces increasing and occupancy rates on the rise, high-quality offices will soon be in short supply and prices will be driven higher. Investment is needed to ensure older buildings are, but this will not happen overnight and so clients desiring high-end flex space need to act fast.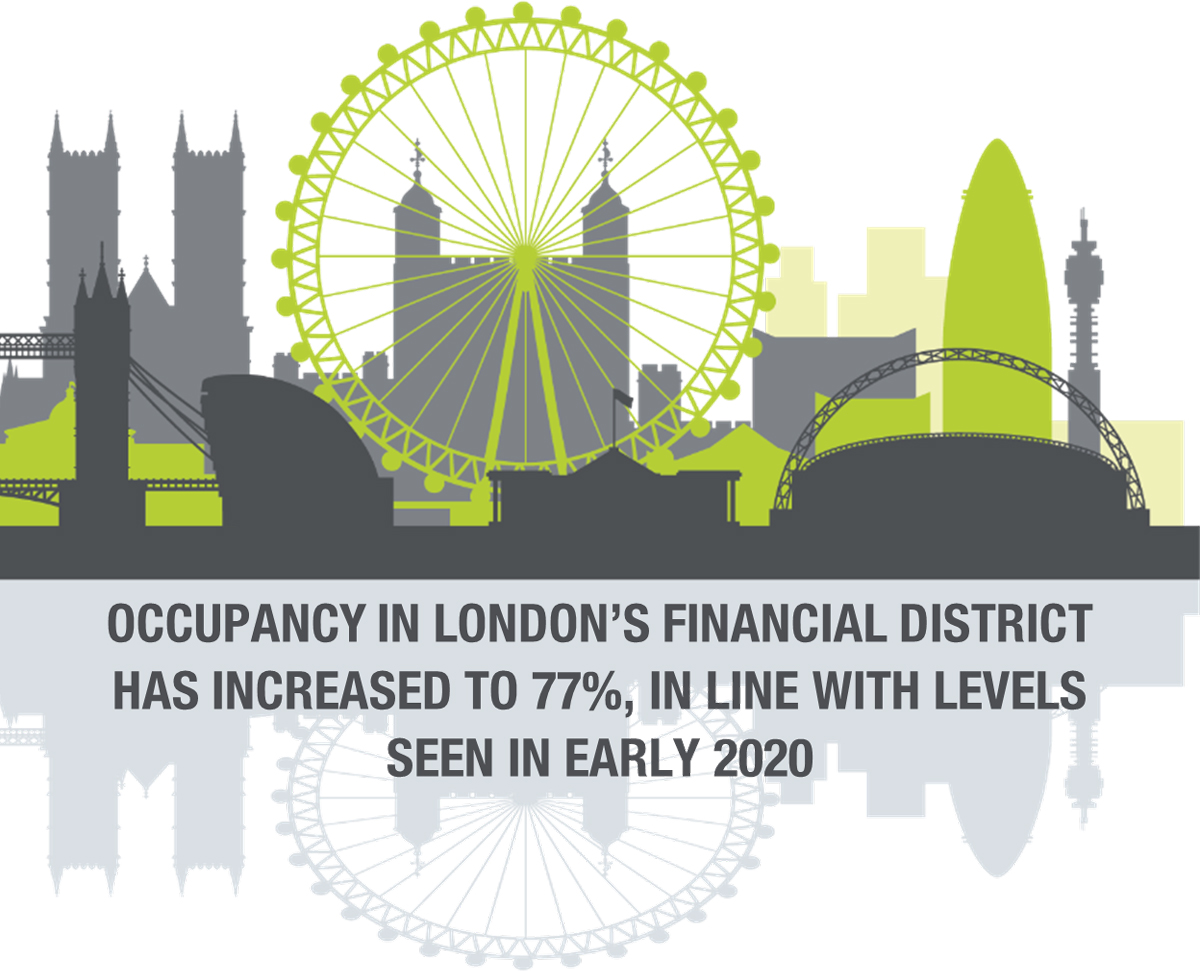 CITY CENTERS REBOUND IN THE REGIONS
Despite the rise in desirability for suburban living, city centers are recovering and no longer lying dormant as some had expected. This month, for the first time since the outset of the pandemic, occupancy rates in the city center of Manchester and Leeds have overtaken those in the outskirts.
There are several factors contributing to this shift, not least the fact that the flexible workspace market is more mature in city centers. This fact offers greater availability of the highly sought-after quality spaces which have not yet established themselves in the suburbs to the same extent as they have already done so in suburban London.
The rise in the number of corporate companies moving to flex is also driving up occupancy in regional city centers. Currently, over 90% of offices for 25 people and above which are ready for immediate occupation are located centrally, with very limited choice for larger spaces in suburban areas.
As part of the desire for companies to offer an enhanced employee experience, some companies are favoring central locations to offer immediate access to amenities, while using smaller hub locations and to incorporate greater agility. As supply of flexible workspace continues to evolve and spread out of city centers, as it has already done in London, we may  see the tables turn again.
LONDON'S FINANCIAL DISTRICT IS FINALLY ON THE UP
Occupancy rates in London took a big hit during the pandemic as remote working took hold and the city emptied out. However, although recovery has been slower than other key cities across the UK, occupancy rates are on the rise and 55% of centers currently boast occupancy rates of 80% or above.
A key positive sign that the capital is reawakening is that the financial district, which experienced some of the most extreme client exodus during the pandemic, is finally seeing occupancy levels in line with those in early 2020.
After being staunchly committed to a full five-day-a-week return to the office, financial firms are finally favoring more flexible ways of working, with JPMorgan, HSBC and Amex all announcing a move to hybrid work models. This is driving demand for flex from financial companies and as a result occupancy rates in the financial district have increased, whereas those in the West End have remained stable.
The recent announcement that Currys is entirely relocating their HQ to a WeWork location in Waterloo, along with Amazon's new HQ in London opening, is sending a clear message that the Capital is far from dead and, with these leaders in their industry committing themselves to a future in the Capital, other companies will follow suit, driving occupancy back up in London.
THE RACE IS ON – QUICK DECISIONS NEEDED TO AVOID COMPROMISE
Quality is the driving factor as companies look to optimize the standard of space and services to deliver environments that rival the home office. Although not all employees are back in the office, companies are securing space now for fear of missing out as occupancy rates rise above average in high-end, highly sought-after locations.
Further investment is critical to bring more flexible stock up to the expected standard.
Desk rates in central London have risen 7% in the past quarter alone and will continue on an upward trajectory as the race for quality heightens.
With contractual occupancy rates on the rise, and flexibility continuing to be a key driver for many businesses, clients requiring flexible workspaces need to be ready to make quick decisions or risk minimizing the choice available or having to make significant compromises.